Masonic Jewels

: Concord Lodge (No. 3239) Past Master's Jewel, gold (9ct) and enamel, the reverse engraved 'Presented to Wor: Bro: Fredk. James Penn, Prov: G. Treas: by the Brethren of the Concord Lodge No. 3239 September 16th. 1911 in recognition of his Valuable Services as Worshipful Master 1910-11 and as a token of their warm personal regard and esteem', with top 'Concord Lodge No. 3239' riband bar; Provisional Grand Lodge of Warwickshire Past Treasurer's Jewel, gold (18ct) and enamel, the reverse engraved 'Presented to Wor: Bro: F. J. Penn by the Bedford 935 & Concord 3239 Lodge as a mark of Esteem Sept. 16th. 1911.', with top 'Treasurer 1909-1911' riband bar, nearly extremely fine

£140-£180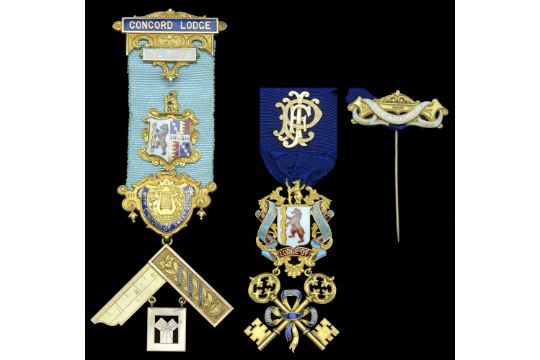 https://www.the-saleroom.com/en-gb/auct ... image-link
Item 2 :
SEI MEDAGLIE MASSONICHE, INGHILTERRA XX SECOLO
in argento e smalti appartenenti alle logge 'Lodge of St. Simon', Londra 1952, 'Lodge of Alperton Park', Londra 1921, 'Spenser & Co.', Londra 1944, 'Ancient Order of Foresters', 'Weaver Lodge', Londra, 'Indipendent Order of Oddfellows', Manchester Unity.
Misura massima cm. 13 x 6.
https://www.the-saleroom.com/en-gb/auct ... image-link